Advantages of Using America's Most Trusted Solar Marketplace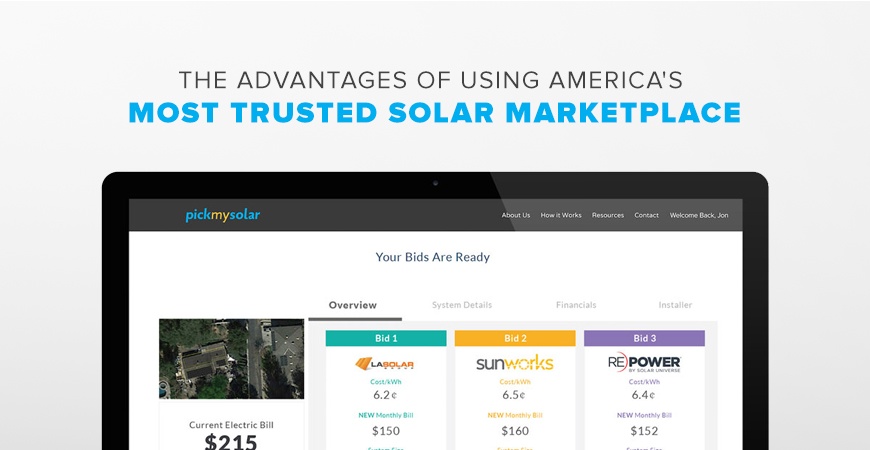 Many people stumble upon Solar.com from a news article, a blog, a link while researching. But why would a homeowner use a service like Solar.com to find a solar installer?
The internet provides a wealth of information on panels, inverters, and various companies. Why not research solar and find an installer yourself.Installers, panel manufacturers, online articles, salespeople…everyone is shouting to get the customers attention. They are all pushing what was best for their bottom line, not necessarily what's best for the homeowner.
Where are the client advocates?
Who are the solar educators helping guide homeowners?
Where is the accountability to installers?
How do homeowners know they are getting what's best for them?
When explaining Solar.com to prospective customers, investors, or business partners, a few topics continuously come to mind – Education, Privacy, and Accountability. Those three ideas sum up the core of what we do. It is a long overdue solution to the chaos growing within the industry.
Solar Education
The solar industry is shifting and changing rapidly. Everyday news of sweeping industry changes, legislation, deadlines on the horizon, and new products are in the news. A great deal of time is spent by Solar.com staff staying up to date. We spent countless hours researching, vetting, and reading about the industry. Our job is to know what is on the horizon and how to best assist customers in light of that information.
One major component of working with the Solar.com team is benefiting from our knowledge. The hours of research and access to industry-specific data can help you determine what decisions are best for the long run. By approaching solar from an industry perspective, we can see the big picture and help guide you to a wise decision.
Solar.com is agnostic in regards to panel brand, inverter type, installers, financiers, etc. Many installers will push you towards the option financially best for them. Homeowners are often up-sold on unnecessary items for their system.
We are not incentivized to steer you as a customer towards any solution in particular. We are free to provide information, help you understand, and then let you choose the option best for your home. Feel free to read other articles below:
Customer Privacy
Homeowners that are energized to research their solar options often collect multiple bids on their own. They give their email, phone number, address, and information to numerous solar companies. This information is then available for marketing, phone calls, mail, and door knocking.
Recently solar installers have been facing harsh criticism for their invasive sales tactics. Protecting your data and personal information is important. By giving your information to installers directly, you permit them to contact you to see if you still want to do business.
Solar City Lawsuit/Change.Org
Solar City Lawsuit/Bloomberg.org
In contrast, when you work with Solar.com, we design your system in-house and place your solar design on a private platform. Installers bid on your project without knowing your address, phone number, or any private data.
Only when you are ready to proceed with your project are they permitted to connect with you directly. This communication allows you to gain various bids across the industry without making yourself vulnerable to aggressive sales tactics.
Accountability
After you have completed the bid selection process and are ready to proceed with your solar process, Solar.com will still be by your side. We maintain communication with both you and the installer to assure that everything goes smoothly the entire time. Our Customer Success team follows your project and liaises with the installer.
We assure that the following progress points are made on time and without error:
Site Survey
Permitting
Planning
Financing
Construction
Installer Inspection
City Inspection
Utility Inspection
Permission to Operate (PTO) approval
System Monitoring
Should you encounter a lapse in communication or an issue with your installer, we are here to get answers. We have your back, encouraging them to follow up and stay in good communication with you throughout the process.
The service the installers give to our clients is directly related to their approval to participate in our platform. Each quarter, installers must reapply to be a part of our bidding platform. The opportunity to bid on projects from Solar.com incentivized them to treat our clients like VIPs. If for any reason an installer is not performing at an optimal level, we have the leverage to advocate for our customers.
Working with Solar.com on your home solar project has many advantages – Education, Privacy, and Accountability being the top three. Reach out to us to learn more about your solar project and how we can help.
You can also read more about our solar marketplace. Also, check the video below for more details on our online solar marketplace.
To get started on Solar.com's amazing online platform, simply enter your address here.